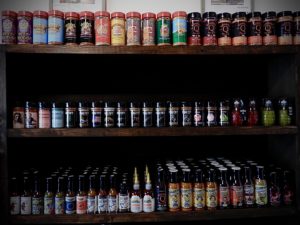 Earlybird's isn't just your place to get craft beer and local wines. Check out our selection of hot sauces, seasoning and rubs, salsas, and other specialty food from local farms and artisan food shops. We are proud to partner with specialty food brands like Meat Church, Kosmos, and Frag Out. If you're looking for some pre-made food, try our charcuterie boards!
Charcuterie Boards
Every Friday, come check out the custom charcuterie boards from Boards by Candice. Serve at a party or just enjoy as a delicious snack! Buy a board and get 10% off wine!
Meet the Beer Experts
30+ years of combined experience allows owners Josh "Earl" Bunch and Sev Ayer to provide the best selection of regional and local beer and ciders.
Visit Us in Poquoson, VA
Specialty food and spices are just a short drive from York County, Hampton, or Newport News and close to Norfolk, Virginia Beach & Williamsburg.